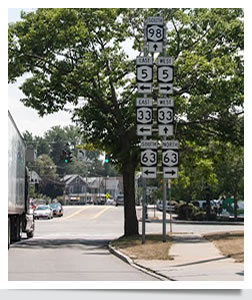 The Town of Batavia was established in 1802 and has a population of 6,809 as of the 2010 census. The Batavia Town Hall and Highway Facility are located at 3833 West Main Street Road, Batavia, New York. We are happy to provide you with information on the Town and its services. We also hope you find the information useful and informative. If you have any questions please do not hesitate to contact us at (585) 343-1729 or stop in to visit us.
2019 Municipal Buildings Benchmarking Report
General Contact
3833 West Main Street Road
Batavia, NY 14020
Phone: 585-343-1729
Fax: 585-343-8461
Town Clerk's Office
Mon, Tues, Thurs & Fri
8:30 am to 4:30 pm
Wednesday
8:30 am to 7:00 pm
Emergency Contacts
Highway
585-356-7153

Water/Wastewater
585-356-4900
This institution is an equal opportunity provider, and employer.  If you wish to file a Civil Rights program complaint of discrimination, complete the USDA Program Discrimination Complaint Form, found on-line at http://www.ascr.usda.gov/complaint_filing_cust.html, or at any USDA office, or call (866) 632-0992 to request the form. You may also write a letter containing all of the information requested in the form. Send your completed complaint form or letter by mail to US Department of Agriculture, Director, Office of Adjudication, 1400 Independence Avenue, SW, Washington, DC 20250-9410, by fax (202) 690-7442 or email at program.intake@usda.gov.