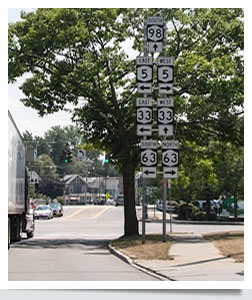 The Town of Batavia was established in 1802 and has a population of 6,809 as of the 2010 census. The Batavia Town Hall and Highway Facility are located at 3833 West Main Street Road, Batavia, New York. We are happy to provide you with information on the Town and its services. We also hope you find the information useful and informative. If you have any questions please do not hesitate to contact us at (585) 343-1729 or stop in to visit us.
2016 Muncipal Buildings Energy Benchmarking Report
General Contact
3833 West Main Street Road
Batavia, NY 14020
Phone: 585-343-1729
Fax: 585-343-8461
Town Clerk's Office
Mon, Tues, Thurs & Fri
8:30 am to 4:30 pm
Wednesday
8:30 am to 7:00 pm
Emergency Contacts
Highway
585-356-7153

Water/Wastewater
585-356-4900
Ag & Farmland Protection Plan
Comprehensive Master Plan
Batavia Town Park Master Plan
Park Road Closure Project
Sewer Extension Project - Alexander Road and Pearl St Rd
Southwest Water Project (Upton, Brown, Lear, Wilkinson)
Pratt Road Water District
Sewer Capacity Purchase Pres.